Shop Drawings that meet your needs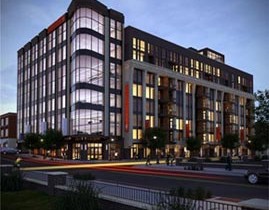 Shop drawings are the pillars of the contract glazing and aluminum industry. Obtaining architectural approval is only a small part of what a quality shop drawing provides. Shop drawings provide a foundation in which enables project managers and installers to complete the project at hand in a timely and accurate manner.
In today's fast growing construction field, glass and glazing & aluminum subcontractors are finding themselves facing tight construction schedules and longer material lead times. Why not choose Charrette Studios Inc. and remove design/drafting from your list of things to do? This way, you will have more time for bidding and project managing by subcontracting the shop drawings to us.
Shop Drawings that capture the design intent of the contract documents
A typical set of shop drawings will include all the necessary details, drawn in AutoCAD to describe your interpretation of the Contract Documents. The details will be generated from the Architectural Plans and your instructions so as to provide your building intent on the project. It's important to note that our shop drawings are only as thorough as the information that is provided to us, so a copy of the Architecturals would be required, as well as a filled out Job Request Form listing all of the detailed information that pertains to the project. All the necessary details will be generated from Manufacturers Standard Details.
Timely & Accurate Shop Drawings
Lead times vary from 1 week to 3 weeks, depending on the size of the job. Lead times are calculated from the time we receive all necessary information to complete the job till the time it is shipped to our customer. Our goal is to provide you with accurate shop drawings in a timely manner. Call us to inquire of our current lead times.